Voices from Capella
This blog is designed to be a forum for both internal and external audiences to highlight education issues and educators that matter to Capella.
The Capella University Library is committed to providing innovative learning experiences and high-quality information resources that support scholarly research, program completion and lifelong learning.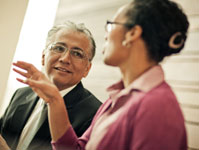 We are advisors who work with learners through the comprehensive exam and dissertation portion of their doctoral journey. Our team includes those who have survived the dissertation process, are completing the process, or have extensive advising experience.