Networking
Importance of Networking
Networking plays a key role in your career success from the time of career exploration through managing your career. When making career decisions, networking is an important step to learn from experienced professionals the realities of the job, employer or industry in which you are interested. Networking may also play a role in your ability to navigate the complexities of obtaining licensure, including finding appropriate clinical experience and post-graduate field experience.
Who to Network with
You likely have more contacts than you realize. Reference the following diagram for possibilities of people with whom you could network. For each of the categories in the graphic, write down a list of names of people that you know. If you can think of other categories, be sure to include them as well. You might be surprised at the number of people in your existing network. After you have written down names within your network, consider contacting them to inquire if they know licensed professionals in your field of interest or if they know someone who is on the licensing board for your state.
Launch Networking Contacts PDF.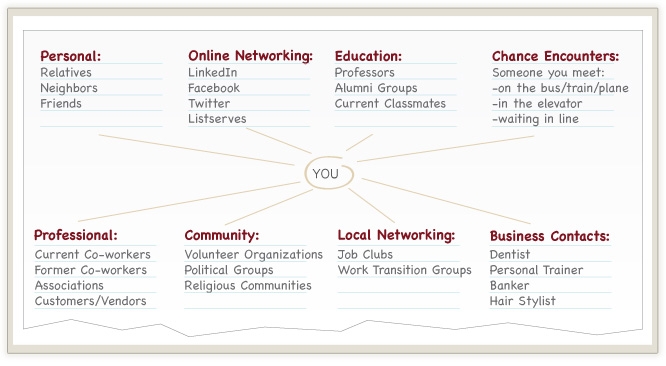 Where to Network
You can network anywhere and everywhere. To be a bit more specific, here are some possible places:
Informal:
Social situations (parties, weddings, graduations)
Committee meetings
Volunteer activities
Talking to people on public transportation
Formal:
Professional associations conferences and meetings
Licensing board meetings
Informational interviews
Networking events
Preparation for Networking
It is important to prepare before you begin contacting people. Preparation will allow people to better understand how they can assist you, as well as help you to manage your time more effectively.
Tell People What You Need
Following are a few things (not an exhaustive list!) you may be seeking depending on where you are in your career, with whom you are speaking, and what your goals are.
Credentials required/preferred in that position or industry
Skills required/preferred in that position, industry, functional area, or company
Typical career path for your field of interest
Professional Association suggestions
Additional people to contact
General salary ranges
Make a Good Impression
Dressing Professionally - Dress professionally and appropriately for the specific situation.
Introducing Yourself
When attending an event, approach someone you've never met or someone with whom you want to re-connect.
Use a firm, palm to palm handshake that lasts approximately three seconds.
Deliver your professional introduction (see example below)
When you have made a meaningful connection, give your business card or personal contact card to the other person
Professional Introductions
The elevator speech is a concise (30 seconds) way of introducing yourself professionally. The components of your speech should include:
Name (slowly, particularly if it is hard to pronounce or uncommon)
The degree you are considering, working towards or earned at Capella University
Overview of 2-3 skills and/or experiences you have that align with the field
Specific examples of accomplishments to substantiate your stated skills
Your interest in the company, area, or industry
A question for the person with whom you are speaking

Example
Hi. My name is Annie Quinn. It is nice to meet you Jason. I'm currently pursuing a MS in Mental Health Counseling and have 5 years experience at a nonprofit agency as a project coordinator. I'm really interested in transitioning into counseling where put to use my passion for helping people and skills in active listening, showing empathy and providing resources. I would really be interested in talking with you about what it is like to work at a community mental health clinic as I begin to better understand this field.
Maintaining the Conversation
Demonstrate appropriate body language that shows you are listening actively (e.g. nodding and maintaining eye contact)
Ask professional questions based on your research
Listen attentively and ask appropriate follow up questions
Exiting Gracefully
Respect the person's time by limiting conversations to no more than 10 minutes at events unless you are confident that the other person is interested in continuing the conversation.
Thank the person with whom you are talking
Summarize your discussion and follow up steps
Example: Thank you for sharing your suggestions for professional associations to join. As we discussed, I will contact you next week to arrange a time to meet for coffee.
Use your "exit phrase"
Example: It's been really nice meeting you, I'm sure you have other people you want to meet and I want to give you the opportunity to do so. Enjoy the rest of the reception.
Example: If there is anything I can ever do to help you out, please let me know
Following up
Follow through on all actions promised during interaction (e.g. forwarding resume, setting up another meeting).
Send a thank you note to people with whom you had a meaningful conversation
Maintaining Your Network
While it is important to build your network, it is even more important to maintain your network by connecting with your contacts on a regular basis. Strategies for maintaining your network include:
Send thank-you card or e-mail after initial meeting
Check in regularly via phone calls or e-mails (e.g. holidays, birthdays, quarterly)
Forward relevant articles/information
Provide updates on your professional accomplishments
Inform contacts when you incorporated their suggestions
Offer to assist when you discover your contact has a need
Capella University cannot guarantee licensure, certification, or endorsement. State regulations vary regarding professional licensure and salary benefits. It is learners' responsibility to understand and comply with requirements for their state.