Voices from Capella
This blog is designed to be a forum for both internal and external audiences to highlight education issues and educators that matter to Capella.
MOST RECENT POST
This week's guest blog post is from Career Counselor, Miranda Johnson, a member of Capella's Career Services team.    Have an upcoming interview?  Being prepared is one key to success.  Here are a few strategies to help you prepare. Know … Continue reading
The Capella University Library is committed to providing innovative learning experiences and high-quality information resources that support scholarly research, program completion and lifelong learning.
MOST RECENT POST
Have you ever found a great article, and want to know how to find similar articles? This week we will feature Library Guides with tips on finding articles using the articles you already have, along with the guides that have been created specifically for assignments during week six. First, see if your course has a … Continue reading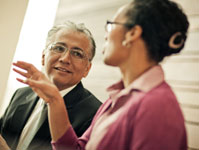 We are advisors who work with learners through the comprehensive exam and dissertation portion of their doctoral journey. Our team includes those who have survived the dissertation process, are completing the process, or have extensive advising experience.
MOST RECENT POST
Dissertation advisors have been receiving a few questions about ePortfolio access after they have graduated. The following is what was shared with me from the Capella University Alumni Office: Data Retention Policy Learners will have access to their portfolios for … Continue reading