MBA
Master of Business Administration
Human Resource Management specialization
What You'll Learn
Outcome goals and graduates' proficiency levels
These results show recent Capella graduates' proficiency levels in the expected learning outcomes for this program. Faculty make this assessment in the capstone course—the final course in which Capella students demonstrate what they've learned.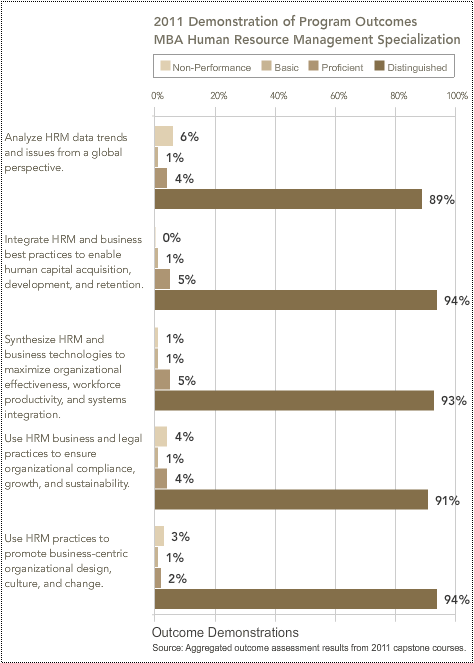 Quality and Professional Relevance
The Human Resource Management MBA specialization has gained acknowledgement from the Society of Human Resource Management (SHRM) that the curriculum aligns with SHRM's HR Curriculum Guidebook and Templates.
Capella's MBA faculty members are also business professionals–bringing a balance of academic expertise and professional experience to the fields in which they teach.
Capella's MS, MBA, and BS project management curriculum is designed around A Guide to the Project Management Body of Knowledge (PMBOK® Guide).
Capella has developed educational alliances with more than 175 corporations, including leading organizations such as Johnson & Johnson, U.S. Bank, and Farmers Insurance Group.
The Project Management MBA specialization includes courses that are approved for professional development units (PDUs) by the Project Management Institute (PMI®).
Expected Program Outcomes
Demonstrate ethical and legal principles and an understanding of the organizational and societal implications of ethical behavior.
Demonstrate an understanding of financial management in theory and application for decision making.
Demonstrate how organizations create value through the integration of production and distribution of goods, services, and information.
Demonstrate professional effectiveness through leadership and collaboration and be able to apply within practical settings.
Demonstrate an understanding and the application of the various economic theories, strategies, and practices for domestic and global environments.
Demonstrate effective professional and interactional communication skills.
Demonstrate an understanding of statistical data analysis and management science as they support decision-making processes throughout an organization.
Demonstrate the ability to identify, select, justify, and apply strategic management techniques (technologies) to organizations.
Demonstrate the social competence necessary to effectively interact with multiple cultures, ethical systems, and economic environments.
Demonstrate an understanding of the information technologies as they influence the structure and processes of organizations and economies and the roles and techniques of management.