Career Outcomes & Job Titles
People who choose an online general public administration degree often pursue management or leadership positions in government agencies, public service organizations or public-private community networks.
Potential Employment Settings
Consulting firm
Educational institution
Government — local, state, federal
International organization
Land-based or online college or university
Nonprofit organization
Political association
Professional association
Research organization
Special interest group
Think tank
Trade group
Common Job Titles/Positions*
Adjunct or part-time faculty
Administrator
Analyst
Assistant city manager
City manager
County support manager
Data manager
Director
Economic development manager
Fundraising and development manager
Government relations manager
Human services manager
Instructor
Manager
Nonprofit manager
Parks and recreation manager
Planning manager
Political leader (city official, mayor, governor)
Policy advisor
Policy analyst
Program officer
Public safety manager
Public works manager
Research assistant
Social service provider or administrator
*These examples are intended to serve as a general guide. Many factors determine what position an individual may attain and Capella can't guarantee a graduate will secure any specific job title.
†Some positions require licensure and/or other designations. We encourage you to research requirements for your job target and career goals.
School of Public Service Leadership Master's Degree Graduates
Data from graduates across all Public Service Leadership masters programs have been combined for these Career Outcomes results.
Master's degree graduates from Capella's School of Public Service leadership report satisfaction with their tasks and responsibilities. The majority (70%) of graduates are employed in healthcare, non-profit, social/community services, P-12, or government/public sector settings.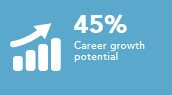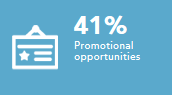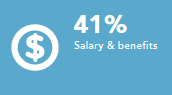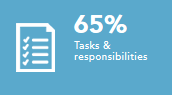 Percentage of respondents who answered "satisfied" or "very satisfied"
Source: Responses to the Alumni Outcomes Survey one year after graduation. The data were collected during Q3 2011 – Q2 2012.
Many of our Public Service Leadership master's degree alumni report receiving a salary increase or assuming a leadership role.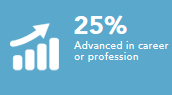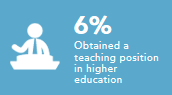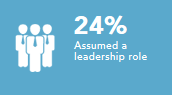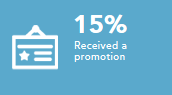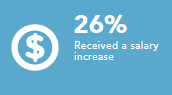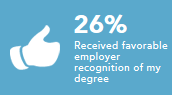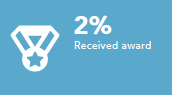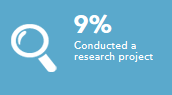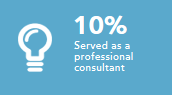 Percentage of respondents who indicated they had accomplished each item
Source: Responses to the Alumni Outcomes Survey one year after graduation. The data were collected during Q3 2011 – Q2 2012.