Your PhD program requires the completion of 3 residential colloquia (BMGT-R8921, BMGT-R8922, BMGT-R8923). Each colloquium experience offers the challenges, resources, and practice necessary to develop the subject matter expertise and academic skills needed to complete a meaningful independent research project.
Taking time from your work and family can be a challenge, but the value you will gain from this experience is immeasurable. In fact, Capella students tell us much of their success is a direct result of the time and effort put into their colloquia experience.
Doctoral colloquia each have 3 steps:
To give yourself the best possible chance of success, you'll begin focusing on components of your dissertation early on in your PhD program. You'll do this with the help of doctoral colloquia. Doctoral colloquia each have 3 steps: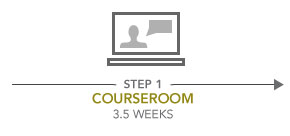 In the courseroom, your instructor will lead you through a set of rigorous activities, assignments, and assessments designed to help you develop a first draft of your dissertation research plan.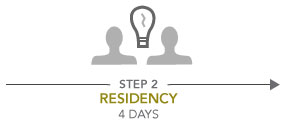 Next, you will attend a residency in which, you will engage in an intensive, iterative process with faculty and peers to further develop your research plan.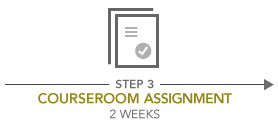 In this last step, you incorporate the feedback you receive in the final session of the residency to refine and submit your research plan.
Email or call an enrollment counselor at 1.877.269.7780 for more information.
Dissertation Research Seminar: Your Roadmap to Success
The dissertation research seminars are laid out in a format that allows you to work extensively on your dissertation research plan from the beginning of your program. The key to your success is on-time completion of each seminar, which can significantly decrease your time to graduation and reduce the overall cost of your degree.
Contact your advisor to learn about the course sequence for your specialization.

What You'll Learn—and When
| TRACK | GOALS | | TIMING |
| --- | --- | --- | --- |
| Track 1 | Learn how to identify a research problem, a research topic, and a literature review. | | Complete before the end of your third active quarter of enrollment. |
| Track 2 | Craft a well-formed research question, select the correct methodology and research design to answer the question and begin developing a sampling strategy and plan for your dissertation. | | Complete between Tracks 1 and 3. There must be one full quarter of coursework between tracks (you cannot attend two tracks back-to-back). |
| Track 3 | Further develop the concepts of your dissertation topics and craft a preliminary full research design. By the end of Track 3 you should have a viable Research Plan to submit during the early milestones of your dissertation. | | Complete during your final two quarters of coursework, before you begin your Comprehensive Examination. |
Your Colloquia Experience
For each colloquium requirement, you will complete online components and attend a face-to-face, 4-day weekend residency experience with your faculty and other PhD students in your program. During the weekend experience, you can expect to consult with faculty to receive direction, feedback, and help as well as participate in peer review sessions.
Activities include sessions focused on:
Scholarly writing and presentations
Research topics, planning, methodology, and design
Library usage
Literature review
Data collection and analysis
Academic integrity and ethics
Special accommodations (e.g., sign language interpreters, mobility assistance, extra time in the courseroom) can be made for students who need additional support.
Dissertation Research Seminar Competencies
As you advance through the dissertation research seminar tracks, you'll gain mastery in each of these critical areas:
Scholar-Practitioner Development
Identify and cultivate the skills required to professionally implement your research design.
Research
Develop questions that align with an identified problem, study existing literature, propose research methodology, analyze data, and apply ethics and academic integrity to research.
Critical Thinking
Apply advanced critical thinking skills to synthesize ideas and concepts from previous research, as well as guide and support new research methods and designs.
Scholarly Communication
Cultivate academic communication skills in verbal and written interactions necessary to advance scientific research.
Colloquia Costs and Financing
The registration cost for each colloquium is $1,495. Included in this cost are all session activities and instructions as well as continental breakfast, coffee, lunch, and afternoon snacks on Friday to Sunday. Additional costs include airfare, lodging, evening meals, and miscellaneous personal expenses.
You can finance your colloquia using Stafford and GradPLUS loan funds. Capella also accepts all major credit cards and checks and offers a Colloquium Payment Deferral Agreement for those who qualify. Additionally, Capella has partnered with Delta Air Lines to provide special discounts for Capella events.
To view an estimate of your total tuition (excluding travel costs) and a sample course sequence, calculate your costs and graduation date.
Questions about colloquium costs and financing? Email or call an enrollment counselor at 1.877.269.7780.
Residency Locations
Residencies are offered annually at alternating hotel conference centers throughout the United States. To reduce travel costs, locations are chosen based on the number of Capella students in the area. Past locations include Anaheim, Arlington, Atlanta, Chicago, Dallas, Orlando, and Phoenix.
Email or call an enrollment counselor at 1.877.269.7780 to learn about upcoming residency dates and locations.
Although you are free to travel with friends and family, only students are able to attend sessions and meals. Childcare is not provided.