PHD
Doctor of Philosophy in Human Services
Social and Community Services specialization
Cost & Transfer Credits
Tuition Costs
This tuition estimate is effective July 8, 2013, and is subject to change.
Take 1 course: $3,750
Take 2 courses: $4,665
Take 3 courses: $5,175
Quarterly tuition for comprehensive examination and dissertation courses $4,175
Tuition per colloquium $1,495
You may take one to three courses per quarter.
You are responsible for the cost of travel, accommodations, food, and other expenses associated with residency requirements.
Use our tuition calculator to estimate your actual costs and see what types of funding you may be eligible for.
Transfer Credits
Many students save substantially by transferring credits from regionally accredited or internationally recognized institutions into their Capella program. For this specialization you could transfer in all 36 of your elective credits from your master's degree. The maximum transfer credit allowed into this specialization is 48 credits.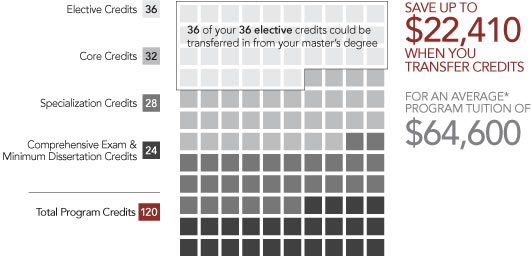 *The average tuition calculations assume that learners transfer in the electives, take two courses per quarter during the coursework phase, and take 8 quarters for the comprehensive and dissertation phase for a total program length of approximately 4 years. This does not assume any grants or discounts.