Gain the Skills Most Valued in Health Care
Capella's health care degree programs are closely aligned to professional standards such as IHI's TripleAim Initiative and NCHL's Healthcare Leadership Competencies. We ensure you gain the same skills and knowledge as the top performers in your field, such as improving patient care experience and health, reducing health care costs, and evidence-based leadership.
We Are Professionally-Aligned
Hundreds of health care organizations — including hospitals, clinics and care centers — are aligned with Capella as an education partner. These employers recognize Capella degree programs are designed for on-the-job impact.
Explore Programs
New Streamlined Degree Programs
Complete your MPH and MHA in as little as 15-18 months. Capella's MPH and NCHL-aligned MHA curricula delivers the same learning outcomes and job-ready skills in fewer courses
Capella: An Accredited University
Capella University is accredited by the Higher Learning Commission.
The Higher Learning Commission is among the 6 regional accrediting bodies recognized by the U.S. Department of Education. Regional bodies accredit colleges and universities; national bodies accredit trade and vocational schools.
Learn Why NCHL Is the Leading Competency Model
Compare Our Tuition
Capella's MHA program is 12% less than the average tuition of five competitive online MHA programs, saving you over $3,000.

1 $22,272 is the total MHA cost assuming 48 credits at $464 per credit.
2 $25,312 is the average MHA tuition of 5 competitive online MHA programs, calculated from the university's 2012-2013 total program cost listing.
Meet Our Distinguished Faculty
Our graduate health care faculty all have doctoral degrees, and many members have served as leaders of regional, national and international organizations including major hospitals, care providers, pharmaceutical companies, public health organizations, and Veterans Administration.

View all healthcare & nursing faculty
Dr. Janet Balke has high expectations for us all and makes us challenge ourselves. Moreover, she has a passion for educating others and encourages us to learn.
Kimberly Appling

Master's in Health Administration
Source
Between 2010 and 2020 there will be 5.6 million job openings in health care occupations.
Georgetown University-Center on Education and the Workforce. Study Title: Healthcare, June 2012. (pg 12)
8 Ways to Save
1

Start Now, Save up to $5,000

To be eligible for the Health Career Grant you must enroll in an eligible program at Capella University by September 8, 2014, and meet all other eligibility requirements ($3,000 if you enroll in a MHA or MPH program, $5,000 if you enroll in a DHA or DrPH program).

2

Transfer Credits

Reduce the time and cost of finishing your degree by maximizing your transfer credits.

3

10% Military Discount

Capella is proud to provide military benefits, including a 10% tuition discount on graduate programs.

4

Start Now, Save up to $5,000

Nurses who hold an RN license and start their program between July and September 2014 and pass their first course are eligible to receive a grant ($1,500 for certificate programs, $3,000 for bachelor's programs, $4,000 for master's programs, $5,000 for doctoral programs).

5

Employer Tuition Reimbursement

Many employers offer tuition reimbursement to their employees — even those without a formal program. Check with your HR department or manager to see if you are eligible.

6

Employer & Association Discounts

Tuition discounts from Capella-affiliated employers and colleges can make your degree more affordable, saving you thousands.

7

Free e-Books

Students in certain programs have access to free online textbooks.

8

Accelerated PhD Courseload

For doctoral programs based on cost per quarter, rather than the number of credits, you can maximize your courseload and complete your degree faster — saving money on tuition.
Experience Learning at Capella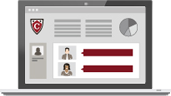 ---

Get Support in Your
Career Decisions
Learn Online Anywhere, Anytime
At Capella, you will enjoy the flexibility of earning your degree on a schedule that fits your life. In our online course rooms, students and faculty participate in discussions at different times throughout the week. You will not attend class at a specific date and time, but you can expect to complete weekly assignments, reading, and participation requirements.