Online Learning
Capella University's competency-based curriculum is built with input from employers and alignment to industry association standards. Capella delivers the instructions to help you develop the skills needed to succeed in your field. This unique approach delivers learning outcomes that lead to superior career outcomes.
Online learning is flexible — you can work on your courses at a time and place that fits your life — but you should expect to be engaged, inspired, and challenged. At Capella, you'll use our online campus and your courseroom to connect and engage with course materials, your classmates, instructors, and more.
The Capella Experience
Click on each activity to learn more
Within the Capella Campus
Create your profile


You'll create an online profile to share your educational and professional interests with your classmates and instructors.
x
Create & manage your Academic Plan


Work with an Academic Advisor to choose your courses and plan your degree program from start to finish.
x
Get personalized guidance


Our dedicated support staff—including librarians, financial aid staff, academic advisors, and career counselors—are all here to help you succeed.
x
Connect with the Capella community


Participate in online discussion groups to engage with like-minded classmates, instructors, and alumni in your area and across the world.
x
Within the Capella Courseroom

Explore course materials

Your course materials are more than just books—you'll also use interactive tools like video scenarios, online articles, and simulations.
x

Engage in class discussions

Within the courseroom, you'll answer discussion questions, respond to your classmates' posts, get feedback from your instructor, and discuss course materials.
x

Receive & submit weekly assignments

Build skills and demonstrate your knowledge through weekly assignments, from reading and discussing articles to completing projects and papers.
x

Receive feedback and grades

The personalized feedback and grades you get from your instructor will help you identify areas to work on so you can develop academically and professionally.
x
The Capella Campus
Within our online campus, you'll manage your academic plan, have access to personalized support, and connect with our community of more than 35,000 students and 1,500 faculty members.
The Capella Courseroom
In the courseroom, you'll learn through discussions, interactive media, readings, video, assignments, and feedback from your classmates and instructors.
A typical week in a Capella course
Most courses last 10-12 weeks. Each week, you'll develop new skills and knowledge as you read course materials, engage with classmates and instructors, and write discussion posts, papers, and other assignments.
Click on each activity to learn more
Mon
Tues
Wed
Thurs
Fri
Sat
Sun
Are you ready to succeed at Capella?
Explore your readiness.
Our free self-assessments can help you examine your motivations, resources, tech abilities, and time management skills. Then fill in the gaps with tips and tools to improve your readiness.
Experience a Capella course for free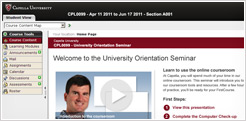 Sign up for a Free One-Week Mini Course
Find out what it's like to to take courses online at Capella with our free mini course. This short, one-unit course includes the type of readings, discussions, and assignments that are part of every Capella course.