A New Approach to Learning
Is FlexPath Right for You?
Contact an enrollment counselor at 1.866.736.1745 or by email to learn more about available FlexPath degree programs. When you connect with us, you will be matched with an enrollment counselor who specializes in your area of study.
How FlexPath Works
With FlexPath, you will work at your own pace to complete a series of assessments in each required course. A key advantage of this approach allows you to move quickly through subjects in which you are already proficient and skip re-learning things you already know.
Rather than weekly participation and deadlines, you will complete your work at your own pace, anytime during the course.
Demonstrate Your Knowledge
Once you feel you have mastered the concepts in a course, you will complete activities that demonstrate specific competencies. To complete these activities, you can use textbooks, eBooks, simulations, videos, articles, or your own work experiences. You also will have access to our online library.
Enroll in Multiple Courses at a Time
You can enroll in up to 2 courses at a time, but you are not limited to a maximum number of courses per quarter. An academic quarter at Capella is 3 months.
Transparent Evaluations
You will not receive grades or a GPA with FlexPath. Faculty will review your assessments and provide substantive feedback based on upfront evaluation criteria. There is no "testing" out. Instead, you will demonstrate specific skills and knowledge by writing papers, proposals or submitting other academic work.
For example, an assessment may require you to draft a project proposal that demonstrates your strategic thinking, and ability to forecast a budget, form a team and clearly communicate.
Is FlexPath Right for You?
FlexPath students must be self-directed, highly motivated, and comfortable learning independently. You will be most successful if you take FlexPath courses in topics that closely align with your professional goals.
Successful FlexPath students are skilled at:
Setting goals and seeing them through
Managing time wisely and effectively
Working independently and staying motivated
Learning in online environments
Building and using a support network to help you stay on track
How Is FlexPath Different?
Standard Path
FlexPath
What Is It?
Faculty lead students in discussions and assignments throughout the week.
Students work independently at their own pace throughout the quarter.
Available Degree Programs
All Programs
Select Programs
Assignments & Course Activity Deadlines
Weekly
By End of Quarter
Course Room Interaction with Peers
Yes
Optional
Students can interact with peers outside course room.
Admission Requirements
Varies by Program
Varies by Program
Estimated Time to Complete Degree
Master's – 2-3 years
Bachelor's – 3-4 years
Master's – 1-1.5 years
Bachelor's – 2 years
Courseload
3 courses / quarter maximum
No limit
Tuition Structure
Tuition per credit or course
Flat tuition rate per quarter
Save Time and Money with FlexPath
FlexPath allowing you to complete multiple courses at once while paying one, flat tuition rate per quarter.
FlexPath: Bachelor's Degree
TOTAL TUITION & TIME TO COMPLETION*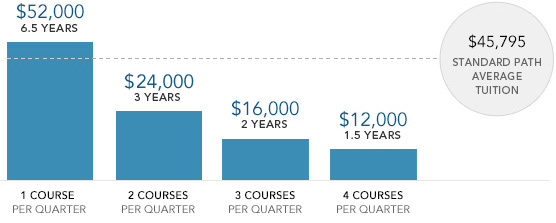 *Assumes only 45 general education transfer credits. This program allows up to 135 transfer credits.
Flexpath: MBA
TOTAL TUITION & TO COMPLETION*

*Assumes 0 transfer credits. This program allows up to 12 transfer credits.
Support Resources
With FlexPath, you will have access to a robust support system, including:
Faculty
Experts who work in the field they teach will provide direct, substantive feedback on each assessment.

FlexPath Coach
One-to-one coaching to help you stay on track and make progress throughout each quarter.

FlexPath Tutor
Subject matter experts to provide assistance when you need extra help.

Community
Access to online academic tools and resources like the writing center and library, plus an online community of other FlexPath students.

To learn more about FlexPath, contact an enrollment counselor at 1.866.736.1745 or by email