Experience the Capella Nursing Difference
With an online nursing degree from Capella University, you can build advanced capabilities, expand your career options, and meet the growing demand for highly skilled nursing professionals. See the difference a Capella nursing degree can make for your career.
Aligned with the Nursing Profession
In response to a report from the Institute of Medicine's (IOM), health care organizations are looking to increase their bachelor's-prepared RN staff to 80% and double the number of nurses with a doctorate by 2020*. With the common goal of preparing a well-educated, highly skilled nursing workforce, we have aligned with employers, including hundreds of hospitals, clinics, care centers, and national nursing associations that recognize that our online nursing programs are designed to meet and exceed the IOM recommendations.
* Institute of Medicine. (2010). The Future of Nursing: Leading Change, Advancing Health. Washington, DC: National Academies Press.
Nurses: Your time is now.
Save up to $5,000 with our Nurse Leader Grant.
Plus, sign up for opportunities to earn FREE CE credit.
Capella: An Accredited University
Compare Our Tuition
Capella's RN-to-BSN program is 27% less than the average tuition of five competitive online RN-to-BSN programs, saving you over $7,000.

1 $20,790 is the total cost assuming 114 transfer credits at $315/credit.
2 $28,640 is the average RN-to-BSN tuition of 5 competitive online RN-to-BSN programs, calculated from the university's 2012-2013 total program cost listing.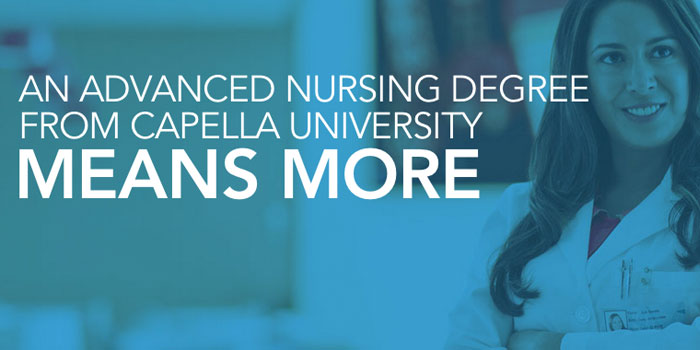 Meet Our Distinguished Faculty
Every member of Capella's nursing faculty has a doctoral degree combined with leadership experience, and a background in frontline nursing. Our expert nursing faculty will help you deepen your expertise, develop new skills and gain knowledge, while providing the support you need to prepare for challenging and rewarding career opportunities.

8 Ways to Save
1

Transfer Credits

Reduce the time and cost of finishing your degree by maximizing your transfer credits.

2

15% Military Discount

Capella is proud to provide military benefits, including a 15% tuition discount off bachelor's programs.

3

Employer & Association Discounts

Tuition discounts from Capella-affiliated employers and colleges can make your degree more affordable, saving you thousands.

4

10% Association Member Discount

Capella is a proud partner with the American Nurses Association (ANA), the National Black Nurses Association (NBNA), and the American Association of Diabetes Educators (AADE).

5

Credit for Real-World Experience

You can earn credits through our Prior Learning Assessment (PLA) process by demonstrating mastery of competencies, and may be eligible to earn credit for previous coursework, experience and learning.

6

Sophia Low-Cost Undergraduate Courses

You can save time and money by choosing to take your general education required courses at our learning partner, Sophia Pathways, rather than at Capella. For example, fulfilling just two of your general education requirements would typically take 3 months and cost about $3,000. You could complete these same requirements at Sophia in under 60 days — for around $650.

7

Nursing Scholarships

In addition to Capella-sponsored scholarship and grant opportunities, there are many other nursing scholarship programs available to help you fund your degree.

8

Employer Tuition Reimbursement

Many employers offer tuition reimbursement to their employees — even those without a formal program. Check with your HR department or manager to see if you are eligible.
Experience Learning at Capella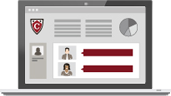 ---

Get Support in Your
Career Decisions
Learn Online Anywhere, Anytime
At Capella, you will enjoy the flexibility of earning your degree on a schedule that fits your life. In our online course rooms, students and faculty participate in discussions at different times throughout the week. You will not attend class at a specific date and time, but you can expect to complete weekly assignments, reading, and participation requirements.