Why go back to school at Capella?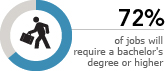 Receiving a degree from Capella University will help meet the demand of a changing economy. By 2018, about two-thirds of all jobs will require at least some college education.
Source: Georgetown University (2010)
Watch this video to learn more about how a Capella degree pays off.
A Degree Helps Protect Against Unemployment

Source: US Bureau of Labor Statistics (2012): Employment Projections, Population Survey

While those without a college degree saw a net loss of 500,000 jobs, college graduates gained 1.2 million jobs.
Source: National Journal (2010)
Move Ahead with a Capella Degree
Source: Eduventures (2010)
Employers give our graduates high marks: 96% rated our graduates' performance as exceptional or proficient.
Set Yourself Apart in the Job Market
Only 25% of American workers 25 and older have a bachelor's degree or higher.

Source: US Census (2011)

Source: Eduventures (2010).
Earn More with a Capella Degree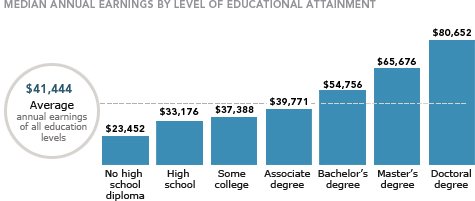 With a degree you can earn more, increase your lifetime earnings, and save more for retirement. And the earlier you start, the more benefits you'll gain.
Source: U.S. Census (2011)
The salaries of Capella graduates increased by an average of 62% within 5 years of graduation.
Source: Eduventures (2010).
But Don't Take Our Word for It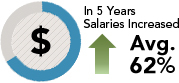 Going back to school is about your goals, your life, and your career. But it's also about the value of the degree you'll earn. Capella graduates are proud of their degrees, and with good reason. Request a university guide or apply for admissions today »