Applying for Federal Financial Aid
While it may seem daunting, applying for federal financial aid is just a series of relatively simple tasks. Use this step-by-step approach to complete your application:
Submit your FAFSA
Complete the Free Application for Federal Student Aid (FAFSA), as required by the U.S. Department of Education.
What Do I Need to Complete the FAFSA?
Have your tax return and bank statements available.
Capella school code: 032673
For help, call 1.800.4FEDAID (1.800.433.3243) or call financial aid at Capella: 1.866.808.8681.
Student Aid Report
After your FAFSA is processed you will receive your Student Aid Report (SAR), which summarizes the information you reported on the FAFSA. Capella will also get a copy of your SAR if you entered the school code (032673) on the FAFSA. Review your SAR for accuracy; it will include instructions on how to make corrections.
Federal Verification
The U.S. Department of Education randomly selects more than 30% of all federal aid applications to review for accuracy. If you are selected, Capella will walk you through the steps of Federal Verification.
Student Aid Report Example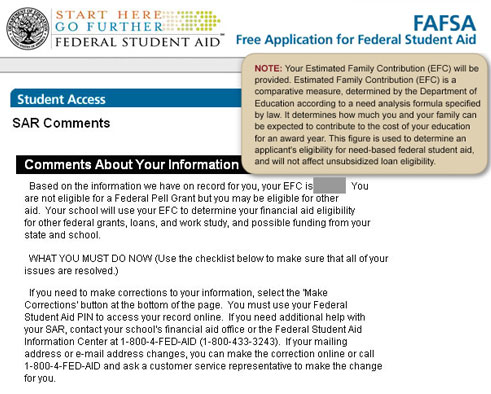 Complete a Master Promissory Note (MPN)
A Master Promissory Note (MPN) is the contract between you and your lender that states the terms and conditions under which you promise to repay the loan. Important: Keep this document until the loan has been repaid.
Complete a Direct Loan Program Master Promissory Note and click on "Sign Master Promissory Note." You will need your Department of Education PIN.
MPN Frequently Asked Questions
Loan Entrance Counseling
The U.S. Department of Education requires you to complete loan entrance counseling, which provides information about interest rates, repayment, and more. If you are borrowing Stafford and Graduate PLUS loans, online loan entrance counseling is available for both loans.
Report any other tuition assistance
To receive federal financial aid, you must report any other source of tuition assistance, like financial assistance from your employer, external scholarships, or VA benefits. This information must be disclosed so that your financial aid award is accurate.
Certification Statement, Application Submission, and Direct Deposit
Your Certification Statement will help you understand your financial aid rights and responsibilities. This statement also authorizes your financial aid funds to be applied toward any outstanding balance at Capella with any remaining aid to be refunded directly to you.
Review and Submit Your Application
Review your application carefully to make sure that all of the information is accurate and that you've completed all necessary steps before you submit the FAFSA. You cannot make changes after it is submitted.
Optional Direct Deposit
If you are entitled to a financial aid refund, you can receive it faster by having it deposited directly into your checking or savings account. You will have to complete a form authorizing the direct deposit.
We Can Help
If you have questions or concerns about federal financial aid, email Capella's financial aid office or call 866.808.8681.