Scholarships, Grants, & Discounts
Get Master's Credit While Earning Your Bachelor's
Our combined degree option is a great way to save time and money by allowing you to work toward two degree levels at the same time.
How it Works
If you're an eligible student, enrolled in an eligible bachelor's specialization, you'll have the option to take master's level courses and have the credits applied to both your bachelor's and master's degree requirements.
A combined degree option allows you to:
Save thousands in tuition compared to pursuing each degree separately.
Complete your master's degree up to 6 months (2 quarters) sooner.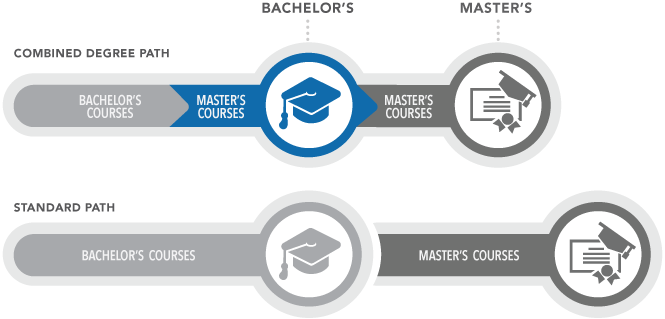 Available Bachelor's/Master's Options
BS in Business
BS in Information Technology
BS in Nursing
BS in Psychology
BS in Public Safety
Eligibility Requirements
The combined degree option is offered to students who have distinguished themselves academically. To qualify for a combined degree option, you must:
Be currently enrolled in a combined degree-eligible Capella bachelor's program.
After you have completed 100 quarter credits of bachelor-level coursework and have earned a 3.0 GPA, you may enroll in one of the combined bachelor's/master's degree options.
Maintain at least a 3.0 GPA to remain in the combined degree option.