Honoring Men and Women in Service
Capella University is committed to supporting our community of servicemembers, veterans, and their spouses as they progress toward their education goals. We value your careers, are grateful for your military service, and appreciate your daily commitment.
Your service may entitle you to several education benefits. Our military support staff is experienced with Veteran Affairs (VA) benefits and can help you understand and take full advantage of these important financial resources. Contact an enrollment counselor at 1.866.808.8681 or via email with any questions you may have about the military benefits.
Yellow Ribbon Program
The Yellow Ribbon GI Education Enhancement Program (Yellow Ribbon Program) is a provision of the Post-9/11 Veterans Educational Assistance Act of 2008. The newest VA education benefit, the Post-9/11 GI Bill (Chapter 33), is now available to eligible veterans and servicemembers. This new program offers more comprehensive education benefits to veterans and active duty servicemembers who served at least 90 aggregate days of active duty on or after September 11, 2001, or served 30 continuous days and were discharged with a service-connected disability.
Learn more about Capella's participation in the Yellow Ribbon Program PDF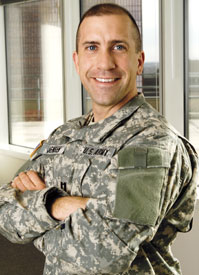 The leadership, management, and marketing skills I've learned at Capella are already useful in my military role.
Rick Jensen, MS
Capella Graduate, Specialization: Marketing
Capella Military Benefits
We understand the challenges faced by servicemembers, military families, and veterans. Our dedicated military support team consists of experts in military benefits and can ensure that you receive all the benefits you deserve. We strive to set the standard of military friendliness in higher education with our supportive community of students, faculty, staff, and alumni.
Discounted Tuition
Capella offers a 10% discount on graduate programs and a 15% discount on bachelor's programs for our students with a military affiliation, including those who:
Are currently serving in the United States military in an active duty, guard, or reserve capacity
Are the spouse of a U.S. servicemember currently serving on an active duty status
Have previously served in the U.S. military
Are a member of the United States Public Health Survey Commissioned Corps
Are a member of the National Oceanographic and Atmospheric Administration Commissioned Corps
Are a civilian employee of the Department of Defense (note: only direct employees of the DoD are eligible; contractors are not eligible for this discount)
Are a dependent receiving Dependents Education Assistance (DEA, Chapter 35) benefits from the VA
Transfer Credit for Military Training and Experience
Whether you are a servicemember or a veteran, you likely have some training that may transfer into your Capella degree as course credits. Capella can perform an evaluation of your military training and experience by reviewing the transcripts provided by the service branches and by reviewing your CLEP and DSST examinations. Training and experience must be applicable to your program of study and meet an outstanding degree requirement to be considered for transfer.
See how CLEP® and DSST examinations correspond to Capella courses. PDF
Flexible Military Leave of Absence Policy
Capella University recognizes the difficulties of balancing an academic program and military commitments. There may be times when your mission comes first and you have to put your degree on hold. If you are unable to participate in your course(s) due to your mission requirements, you have the option to request a Military Leave of Absence (MLOA).
Capella's MLOA policy is informed by the HEROES Act, which addresses Active Duty students who deploy in support of a war, national emergency or natural disaster. We also consider students who are being sent to sequestered training environments or are participating in field training and will not have Internet access during this period.
When your mission is complete, your Capella advisor will help you get back on track to complete your degree.
Military Spousal Support
You do not have to wear a uniform to serve your country. We understand the unique burden of service borne by our military spouses. You have supported your spouse and the military; now let us support you on your education journey.
Capella is the first and only higher education institution that provides a Military Leave of Absence to military spouses.
The Transfer of Education Benefits (TEB) program allows qualified servicemembers to transfer their Post 9/11 GI Bill education benefits to a spouse and/or dependent(s).
The Survivors and Dependents Assistance Program, or Chapter 35, is designed to support the spouse or children of a servicemember who has been killed in action or who has a permanent and total (100%) disability that is service connected.
My Career Advancement Account, or MyCAA is an education program open to military spouses seeking an associate's degree, credentials, and licensure programs. It is only open to individuals whose spouses are on Active Duty or Active/Guard Reserve and are in one of the following pay-grades: E1-E5, W1-W2, or O1-O2.
Capella offers personalized benefits based on your service. Contact an enrollment counselor at 1.866.808.8681 or email for detailed information.
$10,000 Military Advance Grant
New students with a military affiliation who start their PhD in IT, PhD in Business Management, DBA, DPA, or PhD in Public Safety program between July and December 2014 and pass their first course are eligible to receive $10,000, distributed over 7 consecutive quarters. To receive the grant, new students must enroll at Capella and apply for the grant before their first course begins and no later than December 8, 2014.
To see if you qualify for this grant, email an enrollment counselor or call 1.866.736.1677.
View grant requirements
Funding Your Education
Whether you understand your benefits or are unsure where to begin, our dedicated team for military students will help you manage your funding so you can focus on your educational goals.
Veterans Affairs (VA) Benefits
The United States Department of Veterans Affairs provides numerous educational benefits to servicemembers and their families. To learn more about the options available to you, visit the VA website or contact an enrollment counselor at 1.866.808.8681.
Military Tuition Assistance
Military Tuition Assistance (TA) is comprised of funding through your service branch, including:
Military Scholarships
There are numerous scholarships that are offered to current servicemembers, their family members, and veterans of all the branches of the military. To help start your scholarship search, we have compiled some online resources that can be used to help focus your efforts.
Other Funding Programs
Additional funding sources are available for both military servicemembers and their families, including:
Capella's Military Affiliations & Partnerships
GoArmyEd
DANTES
Servicemembers Opportunity Colleges
Army National Guard Education Support Center
Joint Forces Staff College
American Council on Education
Defense Acquisition University
Army Management Staff College
Reserve Fleet Association
The Next Mission: Capella-Inspired PBS film
Capella students and alumni are at the heart of this timely and hope-filled documentary. For the thousands who have served their country under extreme circumstances, the effects can't be turned off at the flip of a switch when they come home. The Next Mission gives living proof that the right support can make all the difference
Get a Look at Reentry after Combat Duty: The Next Mission
Share Ideas
Share ideas for helping servicemembers returning from combat at JoiningForcesAmerica.org.