Career Outcomes & Job Titles
People who choose an online business administration degree often pursue entry-level roles or they want to advance their career in a business, non-profit, small business or government setting.
Potential Employment Settings
Bank
Corporation
Financial services firm
Government — local, state, federal
Health care organization
Human resource
Hospitality industry
Insurance agency
Manufacturing firm
Nonprofit organization
Retail organization
Self employment
Small business
Common Job Titles/Positions*
Account manager
Arbitrator
Benefits specialist
Business manager
Buyer
Circulation manager
Claims adjuster
Consumer credit/loan officer
Contract administrator
Credit manager
Customer service representative
Employee training specialist
Executive/administrative assistant
Facility manager
Financial planner
Fundraiser
Insurance agent
Inventory control specialist
IRS investigator
Junior financial analyst
Loan or Financial aid officer
Management trainee
Materials manager
Office manager
Operations manager
Plant supervisor
Portfolio administrator
Procedures specialist
Production planner
Production supervisor
Project coordinator
Property manager
Purchasing agent
Restaurant manager
Retail or Retail sales manager
Sales Manager or Representative
Stadium manager
Transportation director
Underwriter
*These examples are intended to serve as a general guide. Many factors determine what position an individual may attain and Capella can't guarantee a graduate will secure any specific job title.
†Most positions require licensure and/or other designations. We encourage you to research requirements for your job target and career goals.
BS in Business Degree Graduates
Data from graduates across all BS in Business programs have been combined for these career outcomes results.
The graphs below show some key findings from Capella's Alumni Outcomes Survey. We use this information to help improve our courses, programs and services and to give you an idea of how alumni are using their degrees.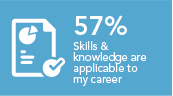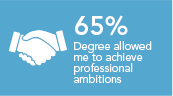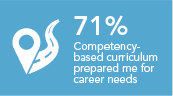 Percentage of respondents who answered "strongly agree" or "agree."
Source: Responses to the Alumni Outcomes Survey one year after graduation. The data were collected during Q2 2014 – Q1 2015.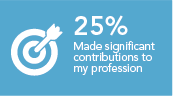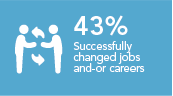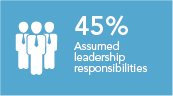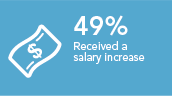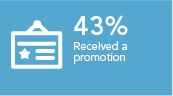 Percentage of respondents who indicated they had accomplished each item.
Source: Responses to the Alumni Outcomes Survey one year after graduation. The data were collected during Q2 2014 – Q1 2015.