At Capella, we give you the tools, knowledge and support to help you measure and maximize your degree outcomes.
Learning You Can See
In addition to grades and ongoing feedback from your instructors, you will be able to visualize your progress in each of your courses.
Use this one-of-a-kind tool to know where you stand after each assignment and see where you might need extra help in your courses.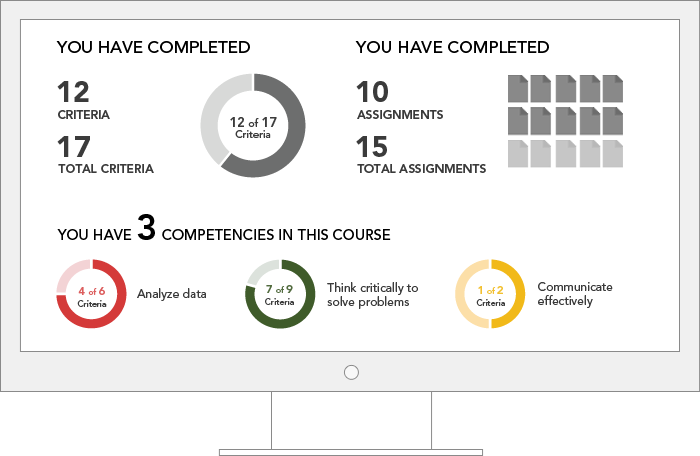 Your Degree Outcomes
This degree is aligned with external professional standards to help you obtain the relevant expertise to advance your career. Becoming proficient in these outcomes will allow you to meet the demands of your field.
By the successful completion of your degree program, you will have gained the following skills and knowledge:
Integrate and apply theory and scholarly research to develop innovative approaches to business problems in global and diverse environments.
Apply and communicate strategic approaches to business practice and planning.
Develop and apply critical thinking to business problems and opportunities.
Integrate internal and external data with analytical techniques to support evidence-based decision making.
Integrate ethical concepts and integrity into sustainable business models.
Develop expertise within and across functional and cross-functional disciplines.
Apply collaborative techniques to develop relationships, partnerships, and alliances.
View full learning and career outcomes report for this program at CapellaResults.com.