What You'll Learn
At Capella, we give you the tools, knowledge and support to help you measure and maximize your degree outcomes.
Learning You Can See
In addition to grades and ongoing feedback from your instructors, you will be able to visualize your progress in each of your courses.
Use this one-of-a-kind tool to know where you stand after each assignment and see where you might need extra help in your courses.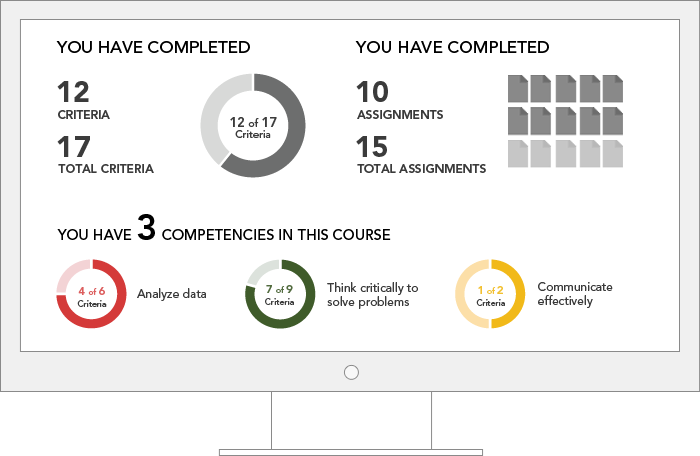 Your Degree Outcomes
This degree is aligned with external professional standards to help you obtain the relevant expertise to advance your career. Becoming proficient in these outcomes will allow you to meet the demands of your field. By the successful completion of your degree program, you will have gained the following skills and knowledge:
Integrating social and behavioral theories and concepts into research and practice in public health and health services to promote and sustain healthy environment and lives for individuals and populations
Communicating and interacting with people across life spans diverse groups and cultures to empower communities and enhance public health
Ensuring the foundations of public health are applied in the delivery of services and activities
Strategizing methods to impact the social, behavioral, governmental, and environmental determinants of global health
Analyzing and interpreting scientific and research concepts, methods, and tools of data collection, to develop evidence-and practice-based strategies in public health
Solving public health problems using biostatistical methods and concepts
Solving public health problems using epidemiological approaches
Inform, influence, and organize stakeholders using communication strategies
Positively impact the determinants of community health by critically analyzing evidence and theory from a broad range of disciplines and sources
Assessing and analyzing environmental agents that impact population health in order to protect the health of communities
Influencing and implementing the ethical concepts of social justice and human rights in public health
Using science and scientific concepts to influence public health
Applying management concepts to resolve operational, fiscal, and human resource dilemmas within public and private health organizations
Evaluating program plans and applying team building, negotiation, and conflict management to influence and motivate others to solve public health problems
Advocating for policies and practices that advance public health at the local, regional, national, and international levels
Utilizing systems thinking concepts to achieve public health goals at the local, regional, national, and international levels
Collaborating across the health professions to optimize health outcomes, including emergency preparedness
View full learning and career outcomes report for this program at CapellaResults.com.