Career Outcomes & Job Titles
People likely to be interested in an online educational leadership and management degree include higher education and P–12 administrators who wish to enhance their leadership and managerial abilities as well as higher education faculty and P–12 teachers transitioning to administrative or leadership positions and government, corporate and nonprofit leaders whose organization or position is focused on education.
Source
Twelve of the top 50 employers of Capella alumni are colleges or universities (as reported by CareerBuilder).
Career Builder Alumni Outcomes Data, Q2 2014
Potential Employment Settings
Adult education program
Alternative school
Charter school
Community college
Continuing education program
For-profit institution
Governmental education agency
Land-based or online college or university
Military education
Nonprofit organization
P–12 private school
P–12 public school
Research and policy organization
State education department
Technical college
Common Job Titles/Positions*
Higher education
Academic affairs vice president
Adjunct or part-time faculty
Community college president
Dean
Director of grant writing
Director of training and development
Full-time faculty
Provost
P–12 education
Adult basic education director
Athletic director
Charter school director
Coordinator of student Programs
Curriculum director
Director of school improvement
District assessment coordinator
District teacher development coordinator
Program director
*These examples are intended to serve as a general guide. Many factors determine what position an individual may attain and Capella can't guarantee a graduate will secure any specific job title.
School of Education Doctoral Degree Graduates
Data from graduates of the Doctor of Education degree program have been combined for these Career Outcomes result
The graphs below show some key findings from Capella's Alumni Outcomes Survey. We use this information to help improve our courses, programs and services and to give you an idea of how alumni are using their degrees.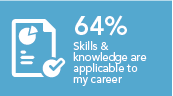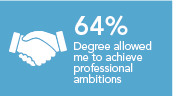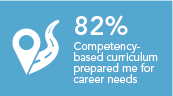 Percentage of respondents who answered "strongly agree" or "agree."
Source: Responses to the Alumni Outcomes Survey one year after graduation. The data were collected during Q2 2014 – Q1 2015.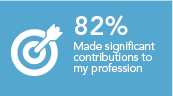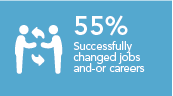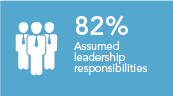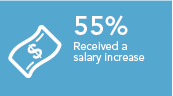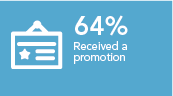 Percentage of respondents who indicated they had accomplished each item.
Source: Responses to the Alumni Outcomes Survey one year after graduation. The data were collected during Q2 2014 – Q1 2015.