At Capella, we give you the tools, knowledge and support to help you measure and maximize your degree outcomes.
Learning You Can See
In addition to grades and ongoing feedback from your instructors, you will be able to visualize your progress in each of your courses.
Use this one-of-a-kind tool to know where you stand after each assignment and see where you might need extra help in your courses.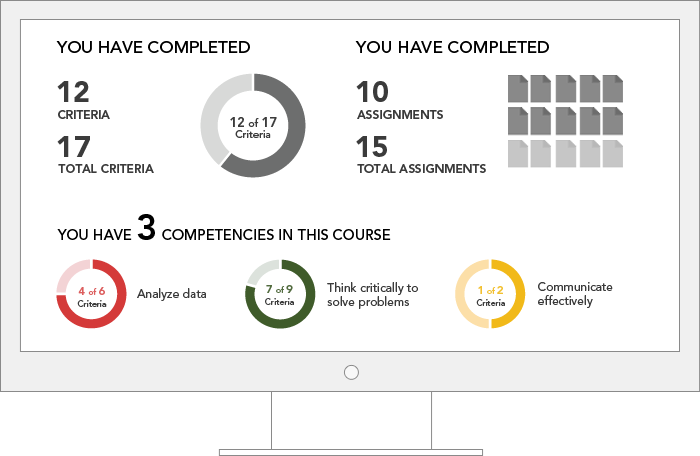 Your Degree Outcomes
This degree is aligned with external professional standards to help you obtain the relevant expertise to advance your career. Becoming proficient in these outcomes will allow you to meet the demands of your field.
By the successful completion of your degree program, you will have gained the following skills and knowledge:
Apply content expertise in the subject matter or discipline of one's educational profession.

Integrate concepts, theories, and research about effective teaching and learning in a technology-rich environment.
Conduct field-based research to advance practice to improve student  achievement.
Apply digital tools to collect student data, plan instructional activities, and evaluate the impact of instruction on student achievement.
Apply 21st century technology skills to improve learning, productivity, and professional practice.
Analyze the knowledge, skills, and dispositions needed to work successfully with diverse learners, their families, and other professionals.
Communicate effectively with all stakeholders using a variety of digital tools.
Engage in critical reflection, analysis, and problem solving that leads to continuous professional growth and improvement.
Collaborate successfully with families, other professionals, and community members to mobilize resources for learners and one's own professional growth.
Model professional attitudes, values, and beliefs that support student learning and development.
Facilitate innovative practices in classrooms and schools to address key needs and opportunities in these complex, adaptive systems.
View full learning and career outcomes report for this program at CapellaResults.com.