What You'll Learn
At Capella, we give you the tools, knowledge and support to help you measure and maximize your degree outcomes.
Learning You Can See
In addition to grades and ongoing feedback from your instructors, you will be able to visualize your progress in each of your courses.
Use this one-of-a-kind tool to know where you stand after each assignment and see where you might need extra help in your courses.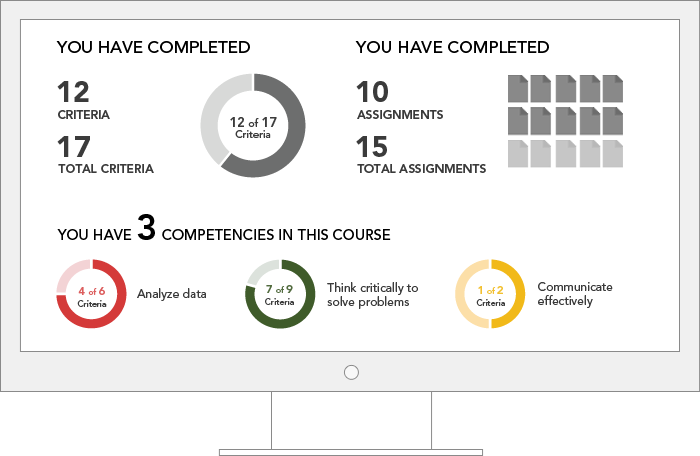 Your Degree Outcomes
This degree is aligned with external professional standards to help you obtain the relevant expertise to advance your career. Becoming proficient in these outcomes will allow you to meet the demands of your field.
By the successful completion of your degree program, you will have gained the skills and knowledge to:\
Program Outcomes
Explain foundational information assurance and security concepts.
Develop solutions for current issues in the information security industry.
Demonstrate use of tools appropriate for the information security professional.
Plan strategies appropriate for an independent contractor within a specialized area of information security.
Integrate general information security and specialized security functions within small and mid-sized businesses as well as large and global organizations.
Communicate effectively with technology stakeholders.
Specialization Outcomes

Analyze the scope and areas of responsibility of a network defense professional
Analyze the existing categories of network defense tool
Apply network defense tools that will meet identified network defense needs
Assess network defense challenges from legal and ethical perspectives
Analyze the network defense skills necessary for an independent contractor in the network defense field
Appraise relationships among customers, stakeholders, legal entities, and sub-contractors in the network defense field
View full learning and career outcomes report for this program at CapellaResults.com.