At Capella, we give you the tools, knowledge and support to help you measure and maximize your degree outcomes.
Learning You Can See
In addition to grades and ongoing feedback from your instructors, you will be able to visualize your progress in each of your courses.
Use this one-of-a-kind tool to know where you stand after each assignment and see where you might need extra help in your courses.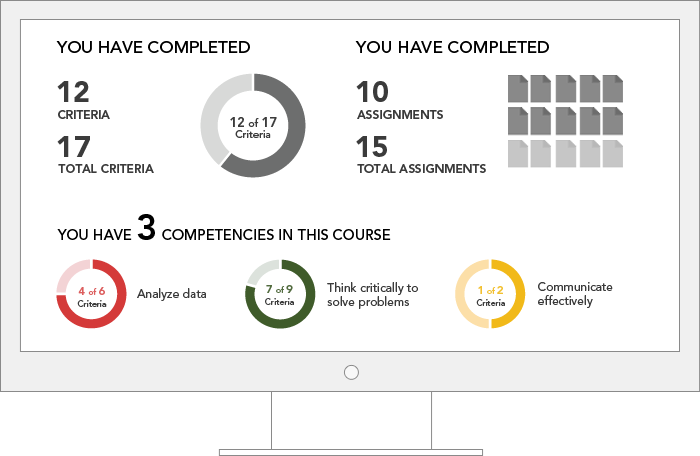 Your Degree Outcomes
This degree is aligned with external professional standards to help you obtain the relevant expertise to advance your career. Becoming proficient in these outcomes will allow you to meet the demands of your field.
By the successful completion of your degree program, you will have gained the following skills and knowledge:
Assimilate health care research into evidence-based nursing practice.
Interpret and integrate health care policy and regulations.
Apply professional ethics and legal standards.
Integrate concepts of management and leadership in professional nursing practice.
Incorporate advanced knowledge, technology, and theories from nursing and related disciplines into practice.
Apply culturally competent health care practices to affect the well-being of diverse populations.
Apply evidence-based practice for health care promotion, disease prevention, and disease management.
Communicate effectively in multiple formats using appropriate information systems and technology.
View full learning and career outcomes report for this program at CapellaResults.com.
*The MSN degree programs at Capella University are accredited by the Commission on Collegiate Nursing Education, One Dupont Circle, NW, Suite 530, Washington, DC 20036, (202) 887-6791 http://www.aacn.nche.edu/ccne-accreditation.
**The requirements for the Post-Master's Certificate in Nursing Education are designed to meet the educational requirements for the Certified Nurse Educator (CNE) credential offered by the NLN.