Career Outcomes & Job Titles
Common jobs with an online PhD in Advanced Studies in Human Behavior include Family services executive director, Educational Consultant, Grant acquisition director, or Program executive director. This degree program is not designed to meet licensure requirements for the counseling, psychology or social work professions.
Potential Employment Settings
Child welfare/children's services
Adoption agency
County health department
Department of social services
Early intervention program
Family preservation agency
Group home
Residential facility
Therapeutic school/camp
Criminal justice/corrections
Community-based living facility
Court
Juvenile justice program
Police department
Prison
Probation department
Victim service program
Educational institutions
Community college
Land-based or online college or university
P–12 private school
P–12 public school
Health care
Health maintenance organization
Hospice program
Mental health
Community mental health center
Family service agency
Managed mental health program
Partial (day treatment) hospital
Psychiatric hospital
Residential treatment center
Policy and planning
Advocacy organization
City, county, state, or federal agency such as the Department of Health and Human Services
Private sector
Church or other religious organization
Consulting firm or practice
Employee assistance program
Nonprofit organization
Common Job Titles/Positions*†
Academic advising director
Adjunct or part-time faculty
Care center director
Child care executive director
Child services executive director
College admissions director
Consultant
Court services supervisor
Educational consultant
Educational grant manager
Educational services executive director
Employee assistance program executive director
Executive director
Family services executive director
Full-time faculty
Grant acquisition director
Group home executive director
Intake director
Juvenile justice program executive director
Learning center director
Learning center executive director
Nonprofit executive director
Program coordinator
Program evaluator
Program executive director
Rehabilitation executive director
Research director
Residential executive director
Social services executive director
Victim services executive director
*These examples are intended to serve as a general guide. Many factors determine what position an individual may attain, and Capella can't guarantee a graduate will secure any specific job title.
†Some positions require licensure and/or other designations. We encourage you to research requirements for your job target and career goals.
Doctoral Social & Behavioral Sciences Degree Program Graduates
Data from graduates across all Social and Behavioral Sciences doctoral programs have been combined for these Career Outcomes results.
The graphs below show some key findings from Capella's Alumni Outcomes Survey. We use this information to help improve our courses, programs and services and to give you an idea of how alumni are using their degrees.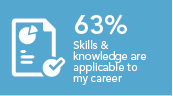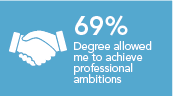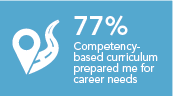 Percentage of respondents who answered "strongly agree" or "agree."
Source: Responses to the Alumni Outcomes Survey one year after graduation. The data were collected during Q2 2014 – Q1 2015.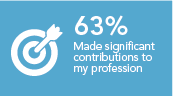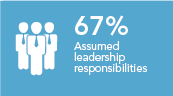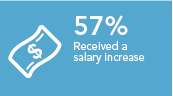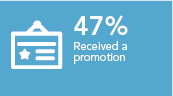 Percentage of respondents who indicated they had accomplished each item
Source: Responses to the Alumni Outcomes Survey one year after graduation. The data were collected during Q2 2014 – Q1 2015.