At Capella, we give you the tools, knowledge and support to help you measure and maximize your degree outcomes.
Learning You Can See
In addition to grades and ongoing feedback from your instructors, you will be able to visualize your progress in each of your courses.
Use this one-of-a-kind tool to know where you stand after each assignment and see where you might need extra help in your courses.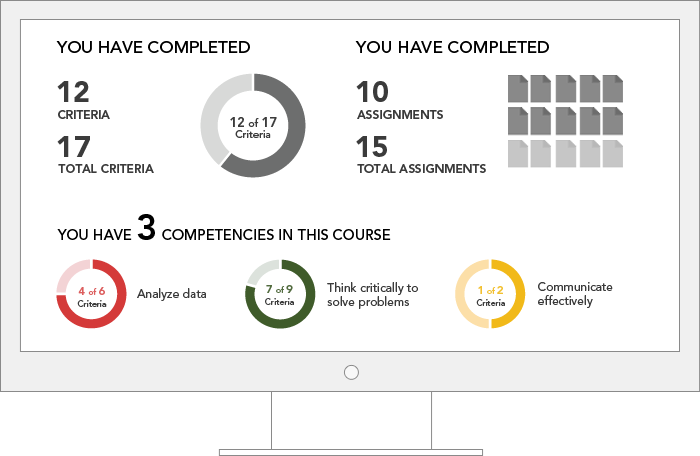 Your Degree Outcomes
This degree is aligned with external professional standards to help you obtain the relevant expertise to advance your career. Becoming proficient in these outcomes will allow you to meet the demands of your field.
By the successful completion of your degree program, you will have gained the following skills and knowledge:
Program Outcomes
Think critically in response to psychological challenges.
Lead the profession of psychology.
Perform ethically in personal and professional interactions.
Respect individuality and embrace diversity.
Communicate professionally in the discipline of psychology.
Specialization Outcomes
Effectively lead problem solving, taking into consideration multiple, complex variables and perspectives.
Strategize a process for consultation and collaboration with professionals at the leadership level of the school system and outside of the school system, regarding systemic improvement.
Develop, monitor, and evaluate interventions designed to improve academic performance and address multiple, complex, and challenging issues.
Develop, monitor, and evaluate interventions designed to improve social, behavioral, and life skills and address multiple, complex, and challenging issues.
Integrate knowledge of school system structure and evidence-based practice to design school- and district-level interventions.
Design, evaluate, and monitor systems to prevent and respond to multiple, complex, and challenging issues impacting the schools.
Analyze multiple, complex, and challenging family issues and their impact on student performance.
Integrate knowledge of various types of diversity and its potential impact on performance at the school and district level.
Integrate knowledge of research design, statistics, and measurement techniques to develop complex programs based on best practices.
Integrate knowledge of professional, ethical, and legal standards of performance and their impact at the school- and district-level.
Design strategies to supervise and mentor school psychologists.
View full learning and career outcomes report for this program at CapellaResults.com.