Get Your Degree Faster and More Affordably
Save time and money on your Capella degree when you transfer credits from regionally accredited or internationally recognized institutions. Your previous military training and prior knowledge may also transfer into your degree program.
Learn more about transfer credits and prior learning assessments or contact your enrollment counselor at 1.866.679.9682 or via email for more information.
Transfer Credits
Nearly all Capella programs allow for transfer credits and each program specifies the maximum number of transfer credits allowed. Courses will be evaluated and those with significant shared content from regionally accredited or internationally recognized institutions will be applied toward your program.
Capella operates on a 10-week, quarter-based term, making 1 semester credit equal to 1.5 quarter credits in transfer. Transfer credits will be considered regardless of how long ago they were earned, except courses for psychology programs within the Harold Abel School of Social and Behavioral Sciences—these must have been completed no more than10 years prior to the date of application to Capella.
Courses must meet Capella's transfer credit and prior learning assessment policy [PDF] and your program's specific criteria. Below is a basic overview of some factors that will be considered during the credit transfer evaluation. Contact your enrollment counselor at 1.866.679.9682 or via emailPDF for more information.
| Evaluation Factors | Yes | No | Will be considered |
| --- | --- | --- | --- |
| Credit awarded from an academic institution or program that was accredited prior to the applicant's withdrawal from the institution. | | | |
| Credit awarded by an institution or program with provisional accreditation at the time the applicant withdrew from the institution. | | | |
| Credit awarded by another institution's petition for credit, portfolio assessments, or institution-specific credit by examination. | | | |
| Credit awarded by other institutions through processes such as transfer, credit by a standardized exam such as CLEP or DSST. | | | |
| Undergraduate course work completed with a grade of "C-" or better. | | | |
| Graduate course work completed with a grade of "B-" or better. | | | |
| Graduate-level courses applied toward a previous undergraduate degree. | | | |
| Vocational courses from technical colleges and programs. | | | |
| Courses completed outside of the U.S. | | | |
A More Direct Path to Graduation

Capella Students that Received Transfer Credits Toward Their Program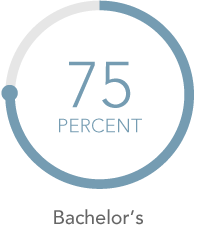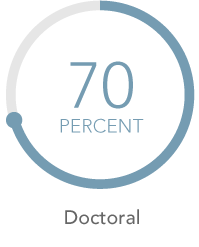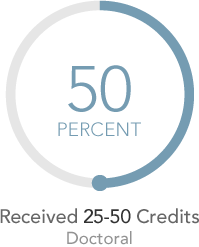 Capella students enjoy a shorter and more affordable route to graduation through credit transfer. Approximately 75% of bachelor's students receive transfer credit toward their program, with 50% bringing in more than 50 credits. Similarly, 70% of doctoral students use credit transfer to save time and money on their program, with over half receiving 25 – 50 transfer credits. Because most master's students enter with only foundational coursework from bachelor's programs, only about 10% receive transfer credits.
Articulation Agreements: A Simplified Transfer Process
Experience a simplified transfer process and streamlined transition from a 2-year to a 4-year degree program thanks to articulation agreements with more than 100 colleges. In total, we have relationship agreements with more than 700 colleges. You might also benefit from Capella's alliance partnerships, which include exclusive tuition discounts and grants to save you money as well as time on your program. Email or call an enrollment counselor at 1.866.679.9682 to learn more.
Our Community College Alliances
Arizona
Maricopa Community College District
Mohave Community College
Pima Community College District
California
City College of San Francisco
Heald College
Los Rios Community College District
Mira Costa
Mt. San Jacinto College
San Diego Community College District
Santa Monica College
Colorado
Colorado Community College System
Florida
Brevard Community College
College of Central Florida
Daytona State College
Florida Keys Community College
Florida State College of Jacksonville
Hillsborough Community College
Palm Beach Community College
Pensacola State College
Polk State College
Valencia Community College
Georgia
Iowa
Des Moines Area Community College
Eastern Iowa Community College District
Iowa Community College Online Consortium
Kirkwood Community College
Illinois
Illinois Central College
Joliet Junior College
McHenry County College
Kentucky
Kentucky Community Technical College System
Maryland
Frederick Community College
Straighterline
Michigan
Lansing Community College
Mid-Michigan Community College
Wayne County Community College District
Minnesota
Century College
Dakota County Technical College
Inver Hills Community College
Lake Superior College
MN West Community & Technical College
Normandale Community College
Saint Paul College
South Central Technical College
Southeast Technical College
Missouri
Metropolitan Community College
Nebraska
Western Nebraska Community College
New Jersey
Nevada
College of Southern Nevada
New York
CUNY-City Colleges of New York
Ohio
Eastern Gateway
Hocking Community College
North Central State College
Sinclair Community College
Zane State College
Oklahoma
Oklahoma City Community College
Oregon
Chemeketa Community College
Rogue Community College
Pennsylvania
Harrisburg Community College
Lehigh Carbon Community College
South Dakota
Tennessee
Cleveland State
Nashville State
Texas
Alamo Community College District
Alvin Community College
Central Texas College
Dallas County Community College District
Houston Community College System
Laredo Community College
Lee College
Texas State Technical Colleges
Trinity Valley Community College
Virginia
Northern Virginia Community College
Thomas Nelson Community College
Washington
Bellevue Community College
Clover Park Technical College
Everett Community College
Green River Community College
Lower Columbia College
Pierce College
Renton Technical College
Seattle Community College District
Truckee Meadows Community College
Wisconsin
Wisconsin Technical College System
Wyoming
Northern Wyoming CC District
Apply More Credits to Your Bachelor's Program
The following nationally recognized programs may provide additional credit toward a Capella bachelor's degree program. Minimum scores may be required.
Advanced Placement (AP) examinations
International Baccalaureate (IB) examinations
College-Level Examination Program (CLEP)
DANTES Subject Standardized Tests (DSST)
ACE-recommended learning experiences including those earned through Sophia Pathways for College Credit
The Credit Transfer Process
As part of your application, you have the option to give permission for Capella to automatically request—and pay for—your official transcripts to evaluate your transfer credits.
Your transcript will be evaluated against Capella's transfer credit and prior learning assessment policy [PDF] and based on factors such as applicability to degree requirements, grade earned, match to Capella courses per department, title, level, and description of course content.
You will receive a transfer credit evaluation, including a summary of the courses that have been accepted for transfer; transfer credit is awarded for those courses.
You can appeal your transfer credit evaluation by submitting additional information, including and extended course description and syllabus.
You will receive a final appeal determination within 90 calendar days.
Earn Credit for Your Prior Knowledge
We value what you bring to Capella and our Prior Learning Assessment (PLA) program allows you to earn credit when you demonstrate relevant, college-level knowledge gained through:
Formal and informal work training
Continuing education programs
Self-instruction
Professional certifications
Other learning experiences
Your enrollment counselor can help you determine how your prior knowledge can save you time and money on your degree. Email or call 1.866.679.9682 for more information.
How PLA Works
The PLA process can require a significant level of effort, but we believe the long-term payoffs are substantial. For example, Capella students who earn credit through the PLA process graduate 1 to 4 quarters earlier and with half the debt of other alumni.
There are 2 ways to earn credit through Capella's Prior Learning Assessment:
Petition
Earn credit with a written assessment of your knowledge related to course competency and a statement detailing why you should be granted for the course you have selected.
Documented Credit
Earn credit through a brief assessment form and supporting documentation of specified current professional certifications.
Your enrollment counselor is a valuable resource as you consider your options and eligibility for Capella's prior learning assessment.
PLA Eligibility
Your enrollment counselor can help you determine if you are eligible for our Prior Learning Assessment. Email or call 1.866.679.9682 to learn more.
PLA is available when the following criteria are met:
You are currently enrolled in a program at Capella.
You have completed your first course.
The course you wish to apply PLA credit to is eligible for PLA and is aligned with the requirements of your program.
Residents of Washington may receive credit through our prior learning assessment only in the bachelor's and MBA programs.