Gain the Skills to Advance Your Career
Capella's degree programs are closely aligned to external, professional standards to ensure that you gain the same skills and knowledge as the top performers in your field. We continually review and adapt our programs to deliver the competencies you can immediately use today.
We Are Professionally-Aligned
More than 500 organizations invest in their employees who attend Capella University. By working with employers, Capella programs are aligned with industry standards and key professional organizations to consistently deliver real-world application, deepen your knowledge and enrich your study.
Explore Programs
A New Approach to Learning: FlexPath
FlexPath, Capella's new self-paced learning option, is available in select programs and allows you to take control of your learning. By moving at your pace, you can leverage your knowledge and expertise to move quickly through topics you already know and focus on the competencies you still need to master. You'll achieve the same learning outcomes as Capella's traditional online programs, only in a more efficient and personalized way.
Capella: An Accredited University
Capella Helps Professionals Reach Their Potential
Meet Our Distinguished Faculty
More than 90% of Capella faculty in the School of Business & Technology hold doctorates. They have deep experience in the areas they teach and bring that real-world expertise to the classroom. Our Business & Technology faculty hold positions in a wide variety of businesses including corporate, small business, government, non-profit, consulting and higher education.

View all business & technology faculty
Dr. Cyd Strickland provided an exemplary teaching model and mentoring skills. The level of professionalism is certainly apparent in how she models Capella's values in interactions with learners and is what I consider the gold standard for the Capella community.
Wes Sherman

PhD in Business
9 Ways to Save
1

Start Now, Save up to $3,000

To be eligible for the MBA Grant you must enroll in an eligible MBA program at Capella University by May 19, 2014 and meet all other eligibility requirements.

2

Take Control and Save with Self-Paced Learning

FlexPath is a more accessible, flexible, and efficient way to earn your degree – allowing you to complete multiple courses at your own pace while paying one flat tuition rate per quarter.

3

Start Now, Save up to $10,000

To be eligible for the Military Advance Doctoral Grant you must have a military affiliation, enroll in an eligible doctoral program at Capella University by June 9, 2014 and meet all other eligibility requirements.

4

10% Military Discount

Capella is proud to provide military benefits, including a 10% tuition discount on graduate programs.

5

Transfer Credits

Reduce the time and cost of finishing your degree by maximizing your transfer credits.

6

Credit for Real-World Experience

You can earn credits through our Prior Learning Assessment (PLA) process by demonstrating mastery of competencies, and may be eligible to earn credit for previous coursework, experience and learning.

7

Employer Tuition Reimbursement

Many employers offer tuition reimbursement to their employees — even those without a formal program. Check with your HR department or manager to see if you are eligible.

8

Employer & Association Discounts

Tuition discounts from Capella-affiliated employers and colleges can make your degree more affordable, saving you thousands.

9

Get Recognized For What You've Already Learned

Save up to six months and $8,640 on your degree with Capella's MBA Accelerated option for nurses who already have an MSN.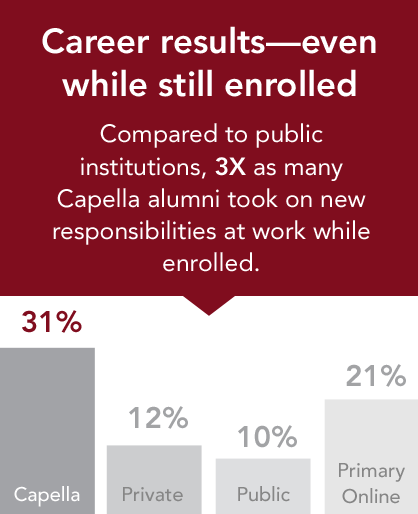 SIGN UP FOR A FREE ONE-WEEK MINI COURSE
Learn Online Anywhere, Anytime
At Capella, you will enjoy the flexibility of earning your degree on a schedule that fits your life. In our online course rooms, students and faculty participate in discussions at different times throughout the week. You will not attend class at a specific date and time, but you can expect to complete weekly assignments, reading and participation requirements.